March 23, 2019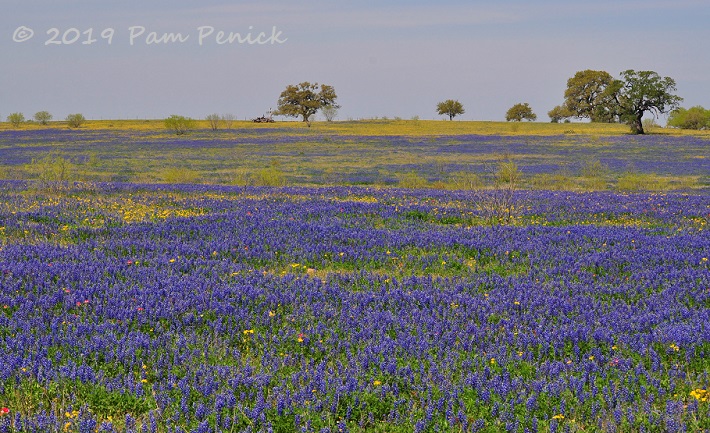 Is Texas experiencing a superbloom of wildflowers this spring? It's certainly the best display I've seen since the epic flowering of 2010. Following a mild and wetter than normal winter, bluebonnets have burst into bloom several weeks early, turning roadsides and fields azure. Indian paintbrush have joined the show too, adding splashes of coral-red.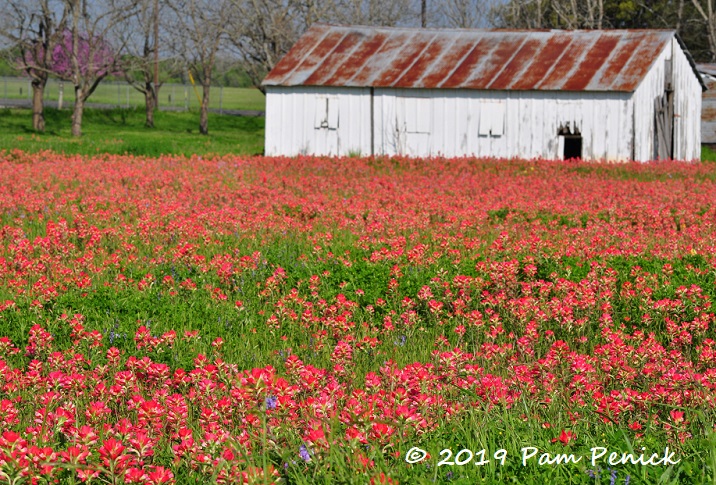 Wednesday night I was reading wildflower-spotting updates at Texas Wildflower Report. Peak bloom south of San Antonio, scouts reported. No matter that a list of chores awaited me at home. Wildflowers wait for no one, and it's a superbloom!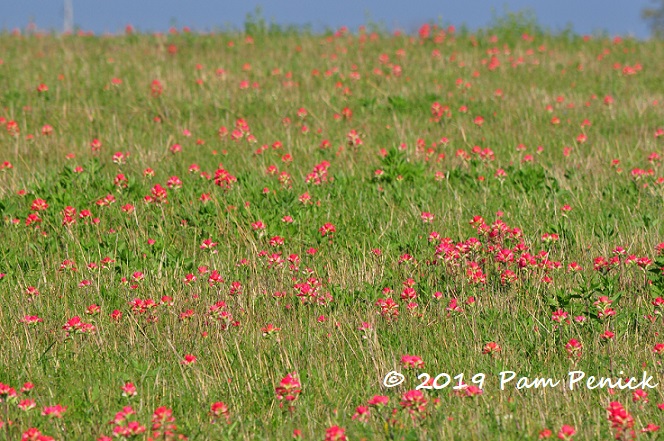 I mapped out a drive based on their reports and hit the road early Thursday morning, Cosmo in the back seat hanging his head out the window. We barreled southwest to La Vernia and then west to Poteet, where I cruised the country roads south of San Antonio, looking for big splashes of color. And boy, did I find them.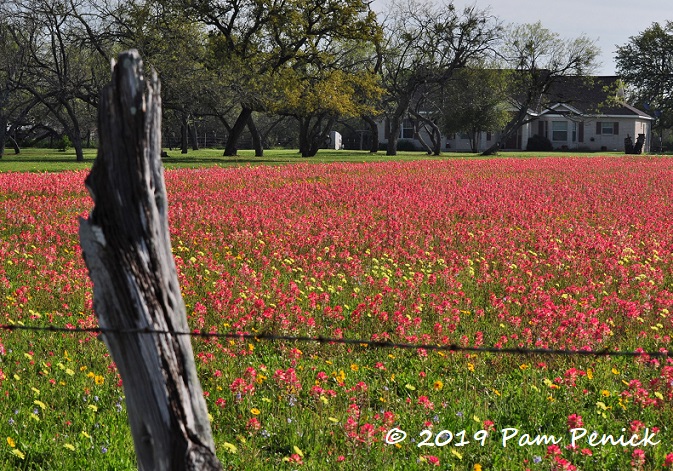 From rural front yards turned into a Red Sea of paintbrush…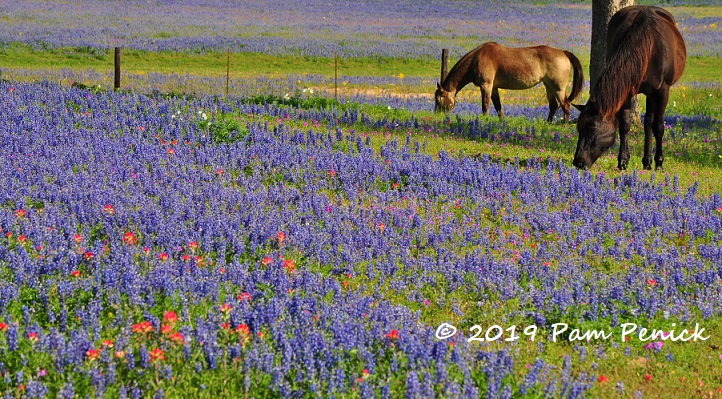 …to horse pastures of ocean blue…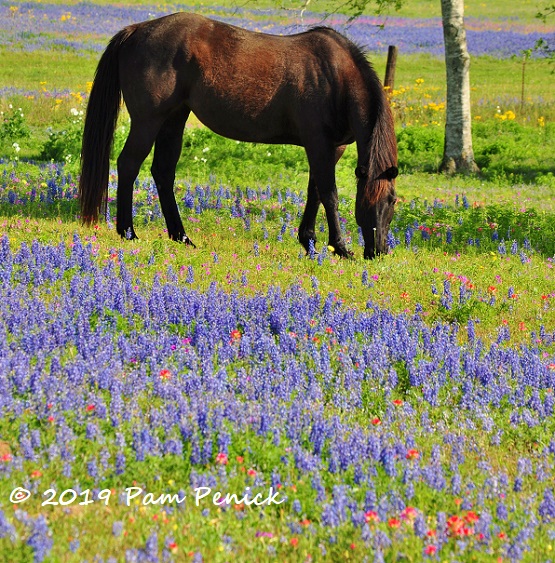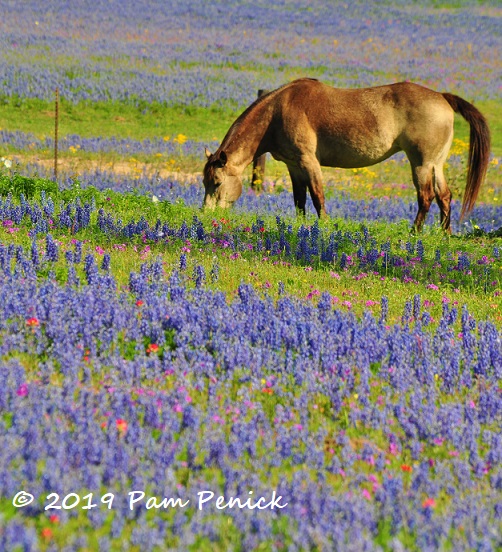 …to fields in a patchwork quilt of color, wildflowers are at peak bloom along Highways 87, 539, 536, and 1470. Start mapping out your Sunday drive now.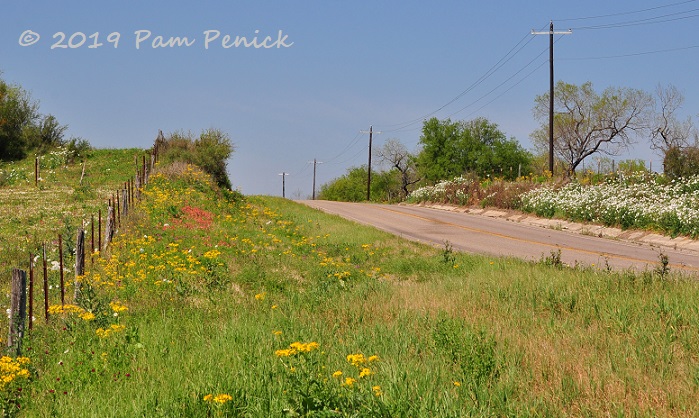 On Thursday morning, I had the roads nearly to myself, just an occasional pickup truck rattling by. I spotted no other photographers, as I often do when on wildflower safari in the Hill Country west of Austin.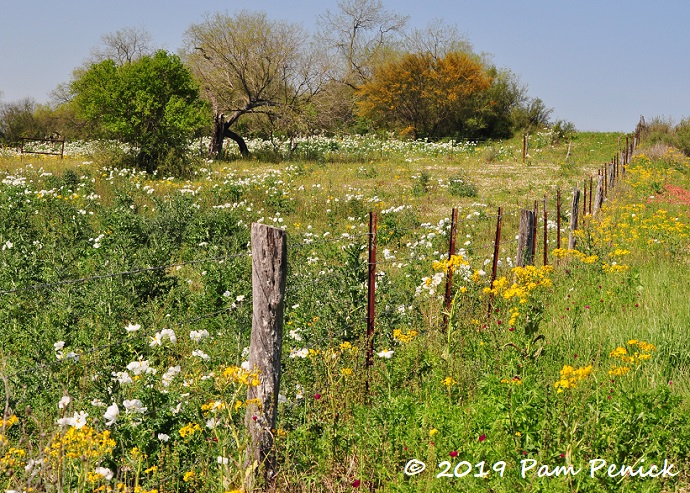 On quiet roads, it's easy to pull over and stop for photos, making sure to stay off private property, never crossing a fence, and watching out for fire ants and snakes. (Wear your boots.)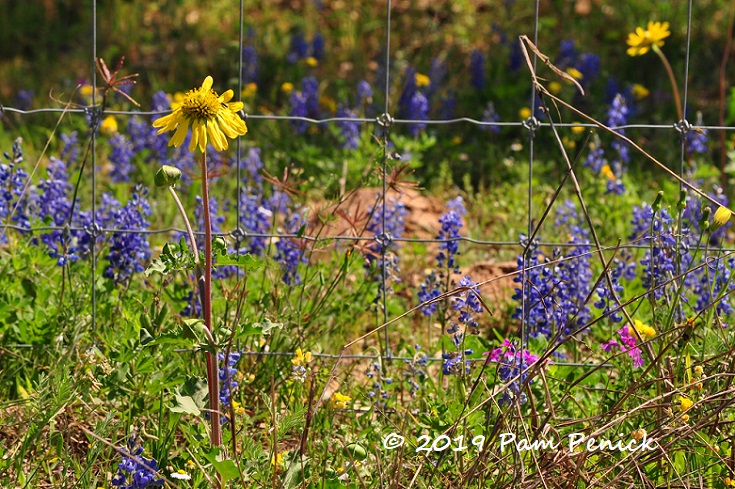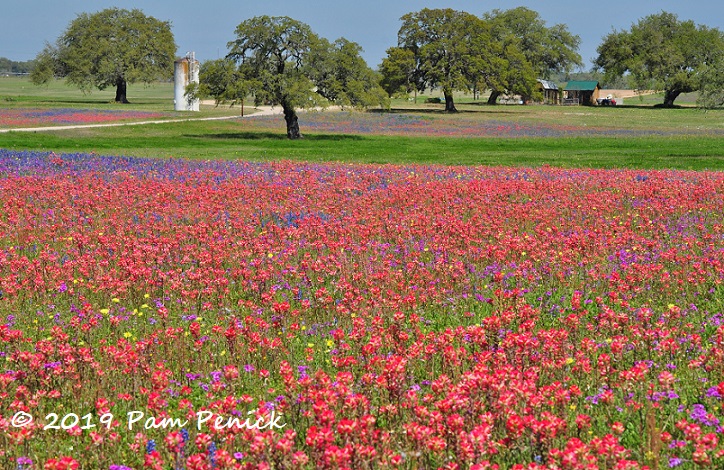 For photography, it's no use shooting a pretty field with a backdrop of ugly buildings, cars, or power lines. Change your angle (move left or right, or perhaps crouch down) to capture a backdrop that enhances or at least doesn't distract from the wildflower display that caught your eye.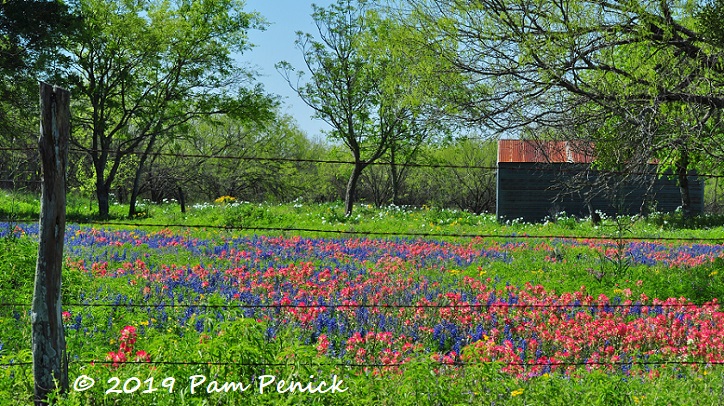 The tart green of new leaves sets off colorful flowers, and rustic barns and cedar-post fences add country flavor.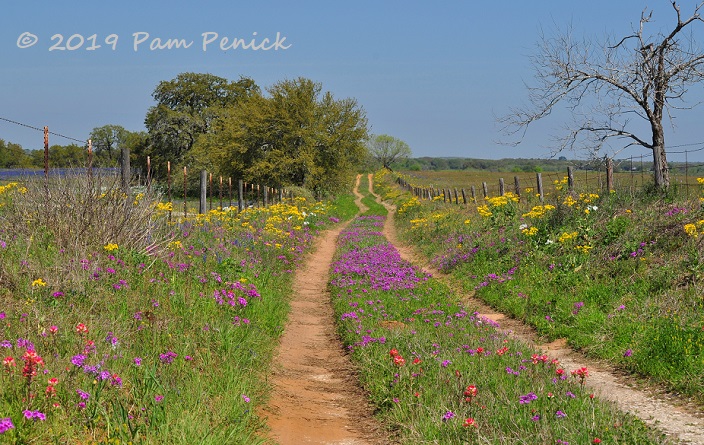 Long rural driveways beckoning from the highway, yellows and purples and reds lining the tire tracks, make a pretty composition.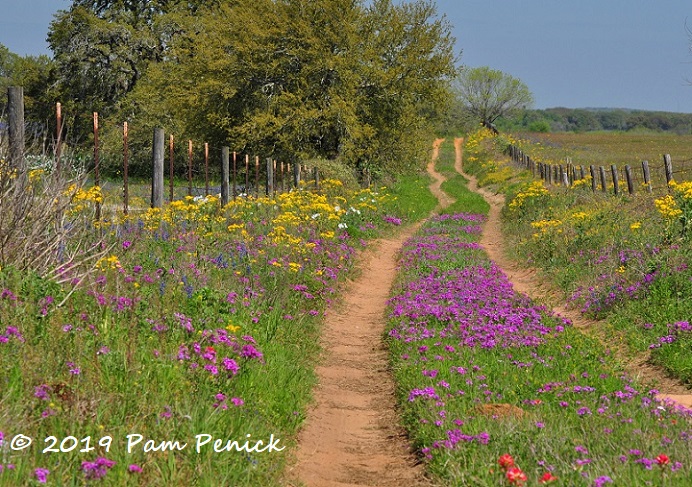 What a beautiful drive home for some lucky person.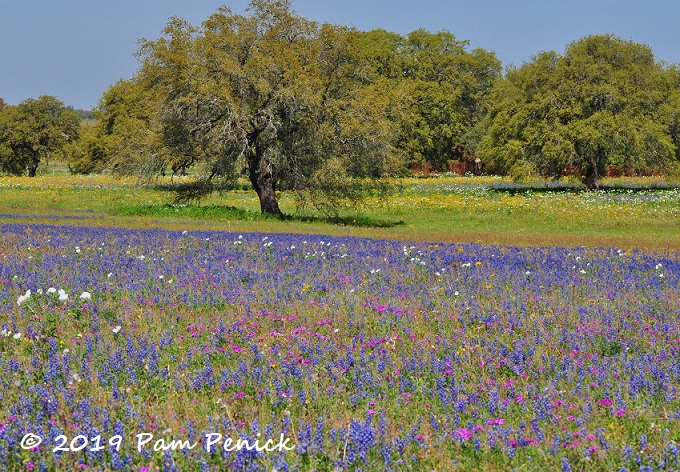 Live oaks shedding last year's gold-tinged leaves and clothing themselves in fresh green stand majestically in fields of flowers.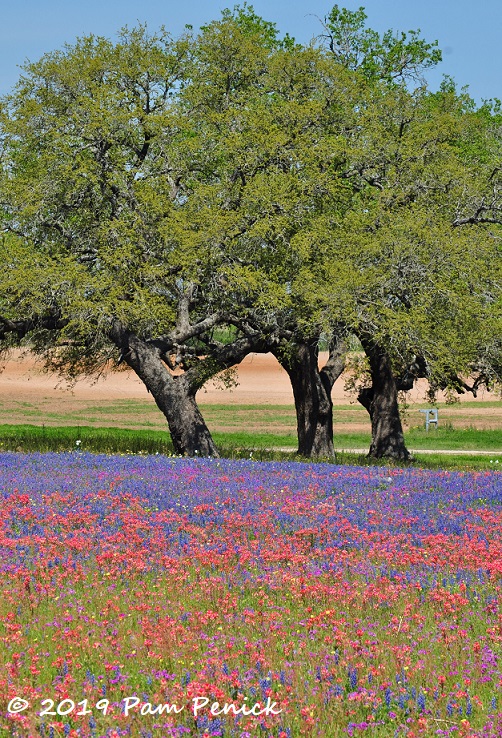 The three graces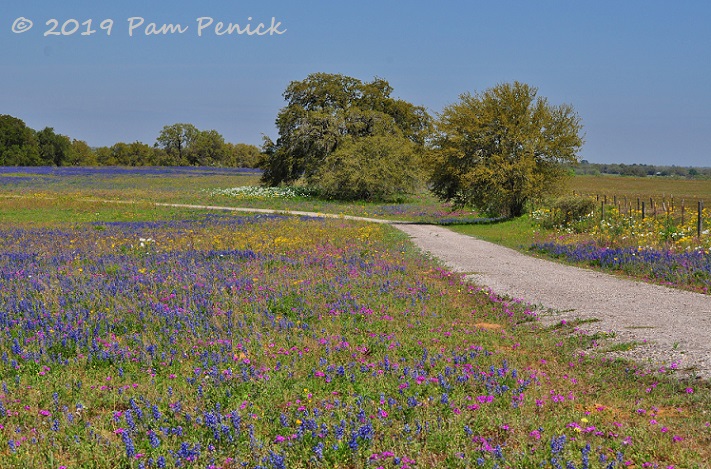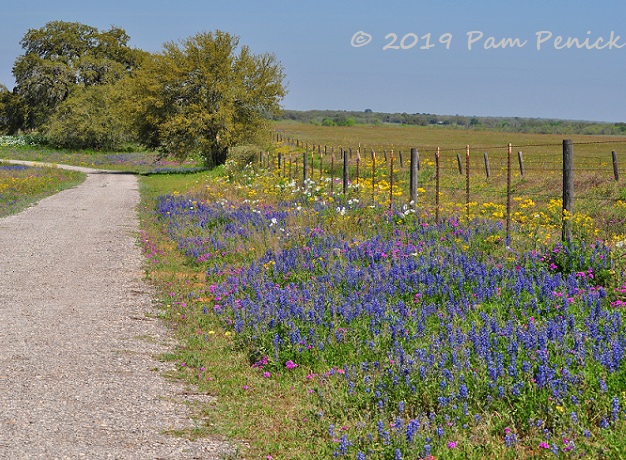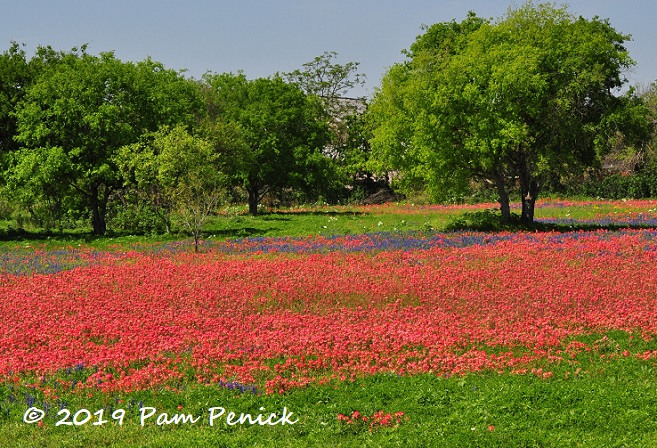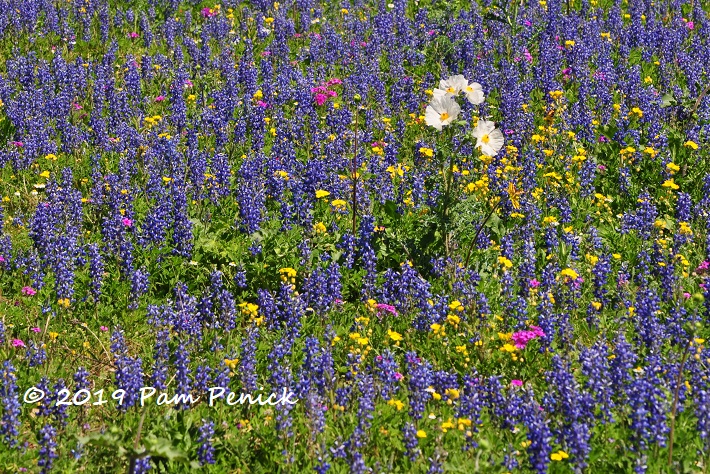 Closeups reveal details, like a single white prickly poppy amid bluebonnets, pink phlox, and yellow something.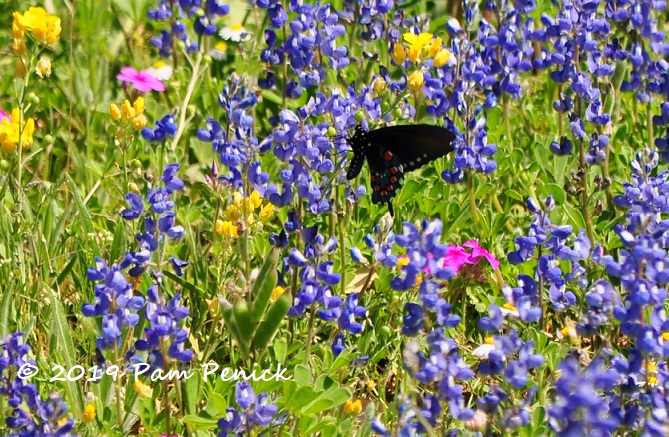 Or a black swallowtail butterfly enjoying the flowers.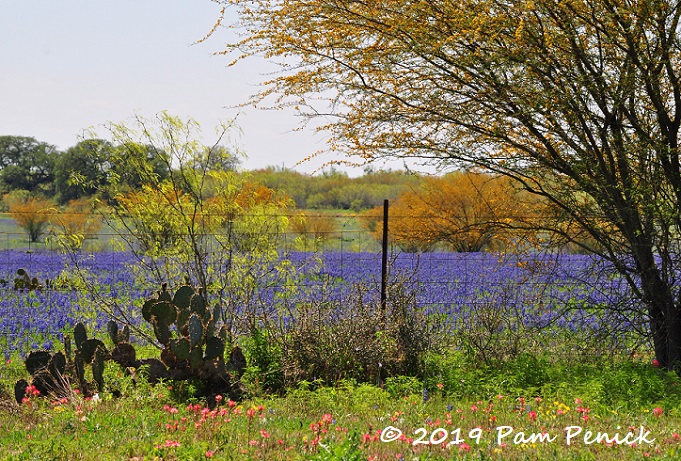 The sweet scent of golden-flowering huisache perfumed my open-windowed car.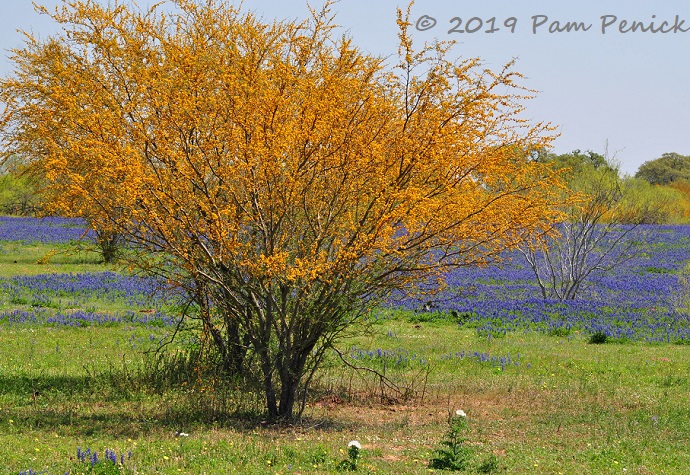 They are gorgeous in bloom…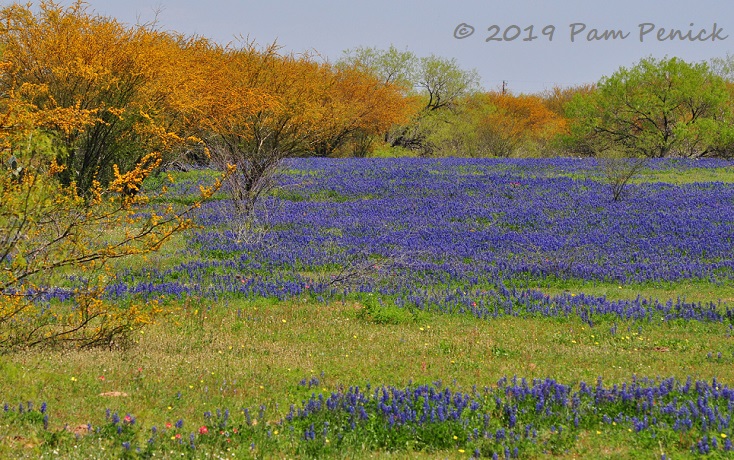 …especially with bluebonnets to complement the yellows.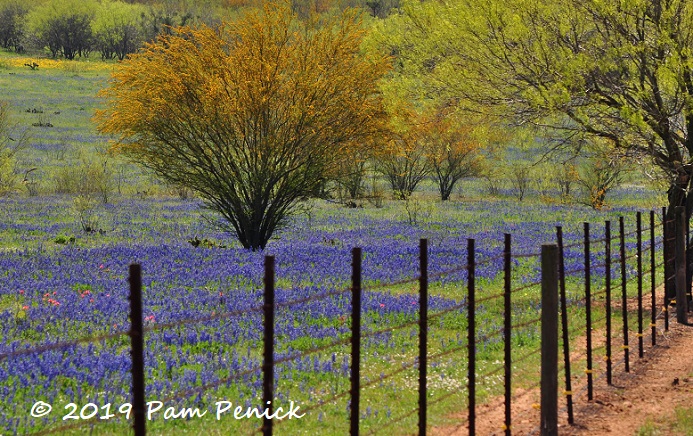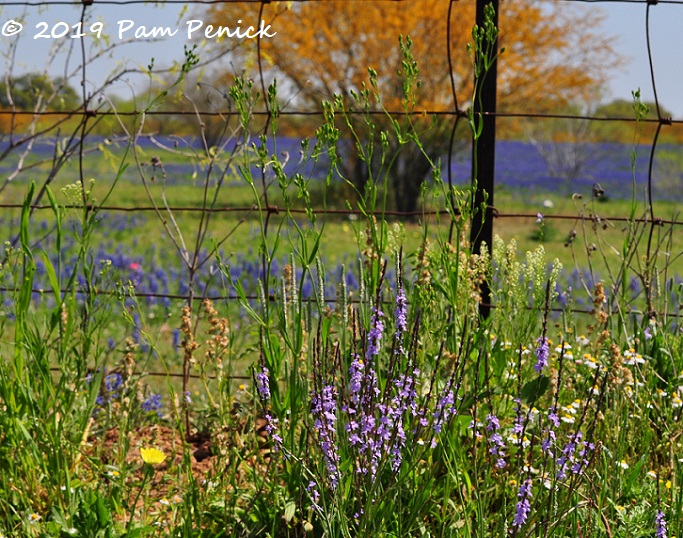 Lilac wands of Texas vervain (Verbena halei)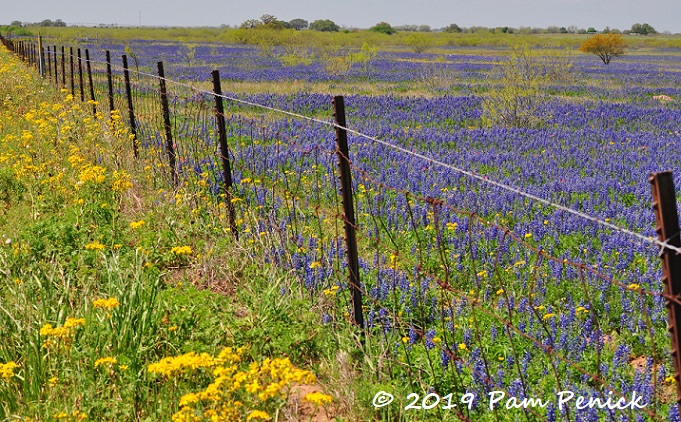 As I took pictures of this field, breathing in the sweet fragrance of acres of bluebonnets on both sides of the road, a minibus rumbling toward me came to a sudden stop on the empty highway. I looked over, figuring it was a tour bus of wildflower peepers.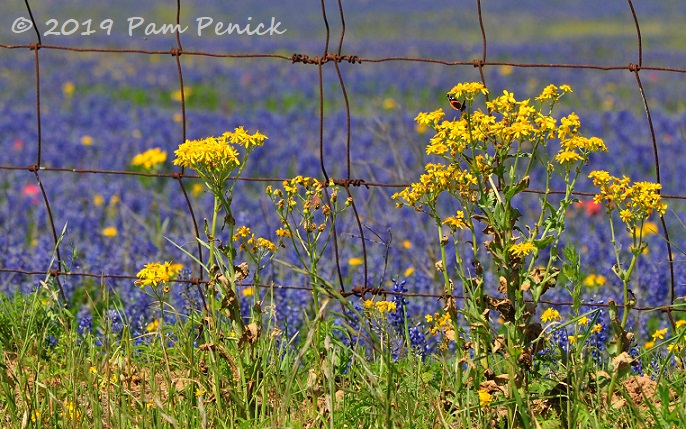 I kept snapping, and in a minute the bus rolled up to me and the driver stuck her head out the window. "So many bluebonnets!" she shouted joyously. I smiled up at her, noticing the minibus was empty and it was just her. "I know! They're beautiful!" I shouted back. Sometimes the obvious is all you can think to say when you are sharing a moment with a stranger.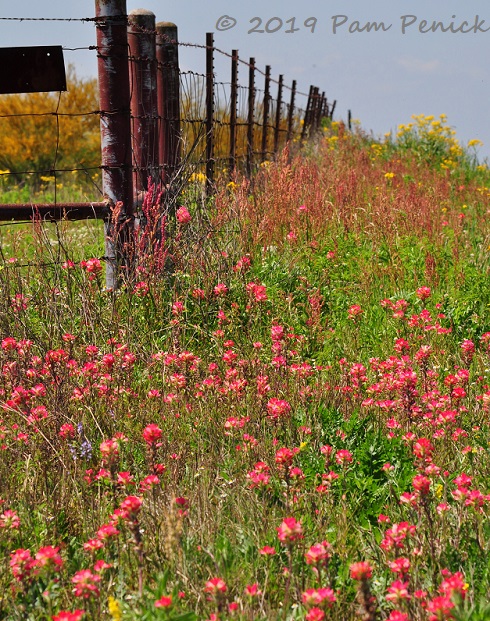 Indian paintbrush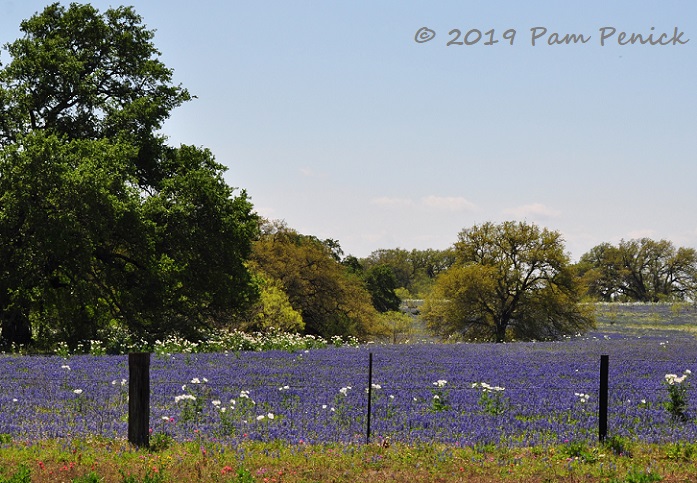 Bluebonnets and white prickly poppies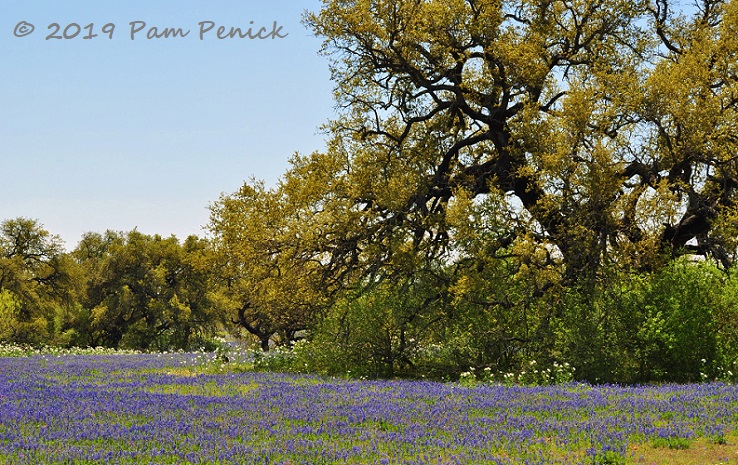 Live oak and bluebonnets
Indian paintbrush with a splash of bluebonnets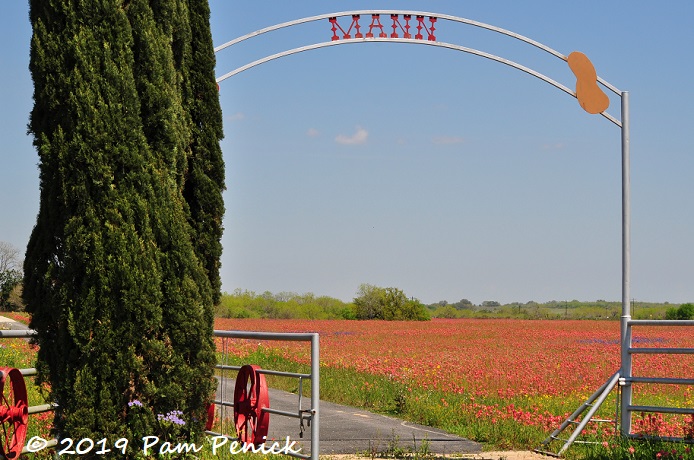 Among several spectacular fields of Indian paintbrush, the Mann spread (see what I did there?) caught my eye with a unique gate of red wagon wheels.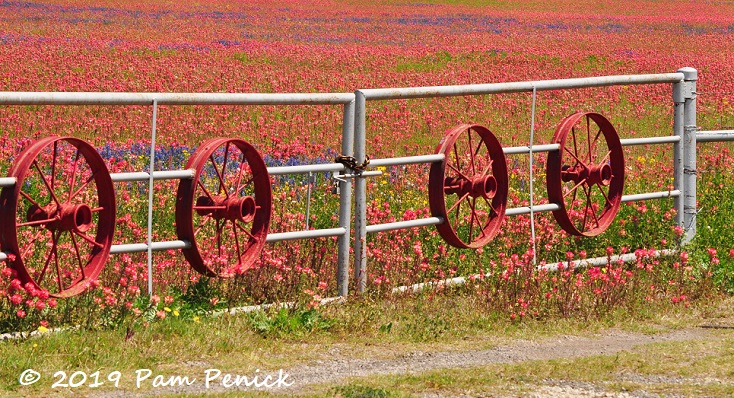 The perfect accent for a field of paintbrush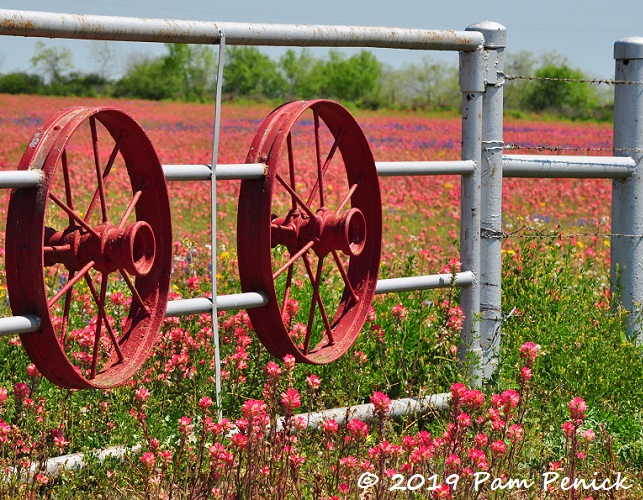 Which came first, I wonder: the wildflowers or the red wagon wheels?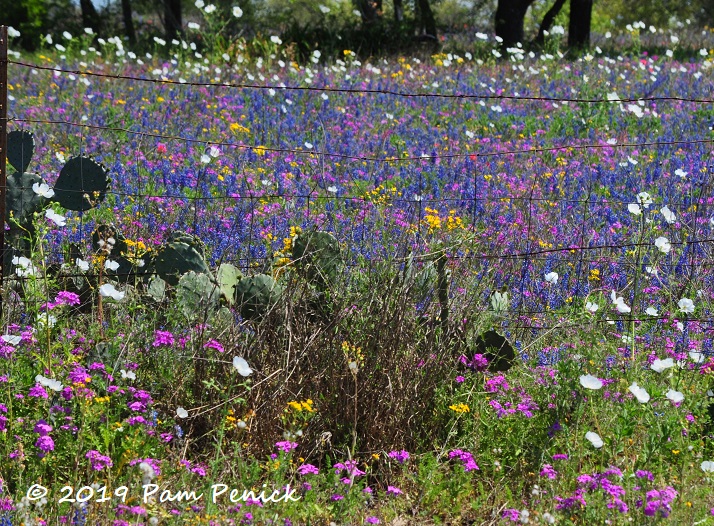 Cosmo loves a car ride and feeling the wind in his fur. His nose was twitching the whole drive, sniffing the air for whatever a dog can detect, which I suspect is a whole lot more than sweet-smelling wildflowers.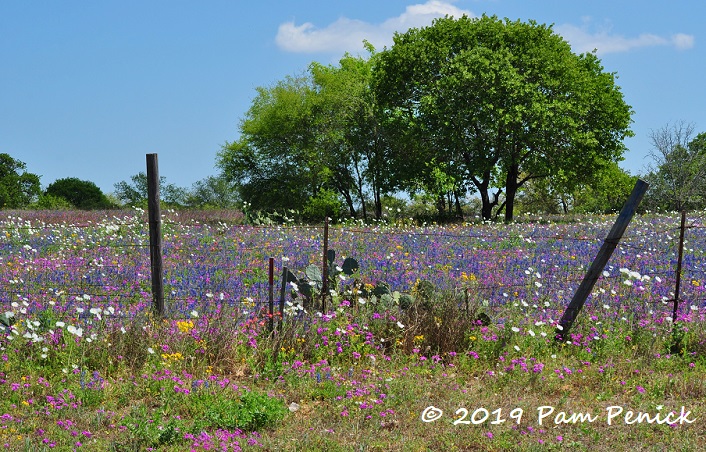 We stopped at a Whataburger for lunch, and the young woman at the drive-through window laughed when she caught sight of his shaggy head and asked if a hamburger was for him. "You bet," I said. "Will he eat the whole thing or just the patty?" she asked. "Oh, I expect the whole thing," I said. She looked impressed. It's true that Cosmo is a small dog, but still. A plain hamburger and bun is a moment's work for this pooch.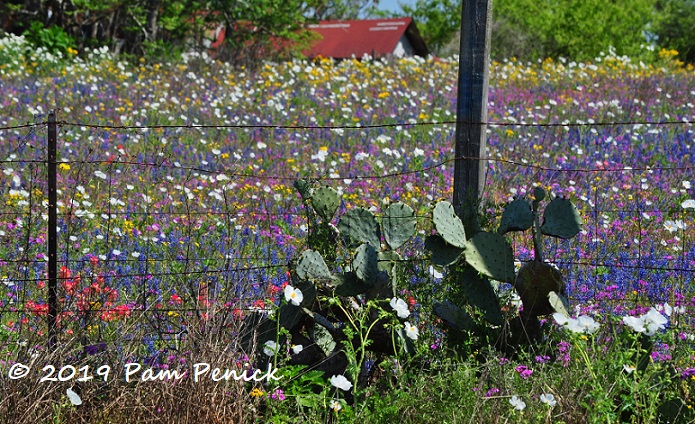 A few more confetti-colored wildflower fields, and it was time to head for home.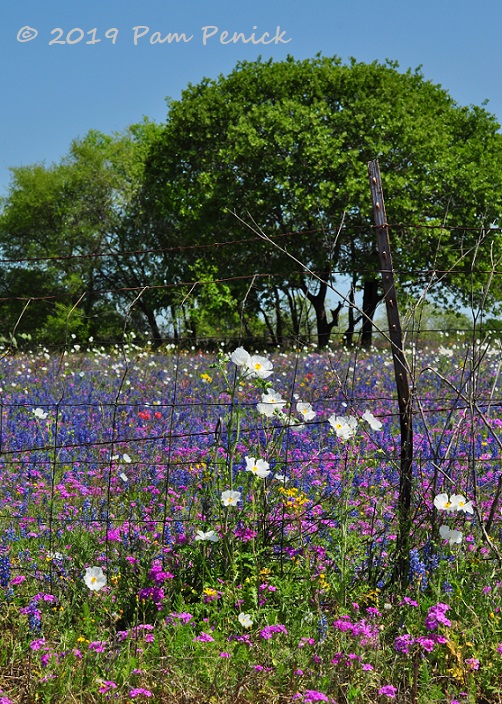 What a show! I hope to see more in a week or two in the Hill Country, if favorable conditions hold.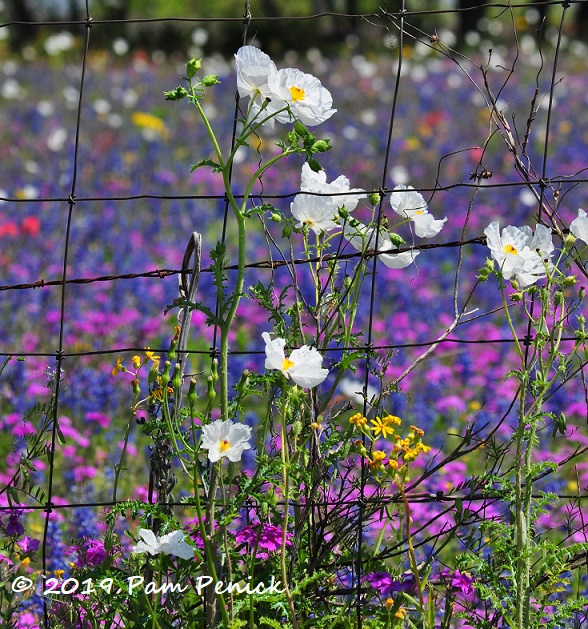 But maybe it would be pushing my luck to even try. This was an epic wildflower safari, and I'm glad I played hooky from my to-do list to see it.
I welcome your comments; please scroll to the end of this post to leave one. If you're reading this in a subscription email, click here to visit Digging and find the comment box at the end of each post.
_______________________
DIGGING DEEPER: NEWS AND UPCOMING EVENTS
Celebrate spring at Peckerwood Garden's 1st annual Budding Out Festival on Saturday, March 30th, from 10 am to 4 pm. Shop for specialty plants and arts and crafts while enjoying live music and exploring the gardens at this free event in Hempstead, Texas.
Attend Zilker Botanical Garden's 3rd annual Starlight Social on April 11th from 6:30 to 9:30 pm. Tour the garden at twilight; sample sushi, sake, craft beer and local wines; experience the authentic chado (tea ceremony); groove to live music; indulge at the dessert and coffee bar; get lucky at the silent auction. Tickets are $100 until April 5, then $115.
Join the mailing list for Garden Spark Talks! Hungry to learn about garden design from the experts? I'm hosting a series of talks by inspiring garden designers, landscape architects, and authors. Held in Austin, the talks are limited-attendance events that sell out within just a few days, so join the Garden Spark email list for early notifications. Simply click this link and ask to be added.
All material © 2006-2019 by Pam Penick for Digging. Unauthorized reproduction prohibited.
The post Wildflower superbloom south of San Antonio appeared first on Digging.